Frequently Asked Questions: COVID-19
Students
Historical Grades, Transcripts, Admissions Applications


Transcripts:
How do I order an OFFICIAL transcript?
Go to www.msdelta.edu, hover over the admissions tab, click records and click request a transcript.
I ordered an OFFICIAL transcript, when will it be processed?
Due to the closure, transcript orders may be delayed. Your transcript will be sent within 72 hours.
How do I get my UNOFFICIAL transcript?
Go to www.msdelta.edu, click MyDelta, Log in, click MyBanner, click the Student tab, click Student Records, click View Unofficial Transcript.
---
Applications:
How do I apply?
Go to www.msdelta.edu and click on Apply at the top of the page.
I have an error on my application; what should I do?
Your application will be processed and fixed soon. You will receive an email letting you know your application status.
How do I check my application status?
Use your login id and password to log into banner and click on application status.
I haven't heard anything about my application. When will I know something?
Due to the closure, our electronic correspondence may be delayed. You should receive an email within 72 hours.
Is there a user guide for applying online or checking the status of an online application?
Go to www.msdelta.edu, hover over Admissions, click Overview, click Application Guide on the right side of the screen.
---
Any additional questions about transcripts or applications?
Email admissions@msdelta.edu.
Registration for Adult Education is cancelled until further notice.
For questions regarding Adult Education, GED transcripts or GED diplomas, please email Teresa Smith at tsmith@msdelta.edu.
Tuition, 1098T Tax Forms, Refunds, Student Accounts
Once Financial Aid refunds are processed by MDCC, it will show on your student account in MyBanner.
Log in to MyDelta
Click MyBanner
Click Student tab
Click Student Account
*Please note that once MDCC processes financial aid refunds, it could take up to 3 business days for BankMobile to process them.*
---
To pay on a student account:
Log in to MyDelta
Click MyBanner
Click Student tab
Click Student Account
Click Online Payment
---
If you need to contact BankMobile:
BankMobile
Call: 1-866-663-2228
Email: support@bankmobile.com
Click here to visit the BankMobile website
---
All student account questions/inquiries should be directed to the Business Office at 662-246-6312 or by emailing studentaccounts@msdelta.edu.
Any emergencies regarding Mississippi Delta Community College can be addressed by calling the MDCC Campus Police department at 662-246-8011.
Accessing Canvas
Log in to MyDelta
Click Canvas
*** OR ***
If using the Canvas app:

Username = student ID # (D #)
Password = most likely your 8 digit date of birth in mmddyyyy format unless you have changed it directly in Canvas previously.

NOTE: The Canvas app does NOT use your MyDelta portal credentials. If this does not work, you must use the MyDelta portal to access Canvas or you will have to contact eLearning at vccdlc@msdelta.edu.
---
Troubleshooting
If students or courses do not appear in Canvas, email details to vccdlc@msdelta.edu.
Students having problems logging in to Canvas using the lockdown browser, should email vccdlc@msdelta.edu. Please do NOT email IT, as this department cannot reset direct Canvas passwords or resolve issues related to this issue.
---
For any additional questions or inquiries about Canvas or regular online classes, email vccdlc@msdelta.edu
Questions about traditional classes that have transitioned to online should be directed to the instructor via the instructor's email or through the Canvas Inbox.
The primary purpose of the Capps Center is to focus on the training, education and skills improvement needs of business and industry.
For more information about
Welding
Lineman
HVAC
Manufacturing
Call Tonya Rice at 662-445-1985
---
For more information about
Carpentry
CDL permit
CDL
Electrician
Call Anjavette Payton at 662-445-1984
---
For more information about
Pharmacy Tech
Medical Office Assistant
Virtual Reality
Medical Coding
Medical Billing
Call Jane Burton at 662-445-1983
---
For businesses and industry inquiries
Call Todd Donald at 662-445-1989.
Counseling Offices Closure and Contact Information
Counseling offices at all MDCC campuses will be closed until further notice. Below you will find contact information for counselors from all locations:
Nakeshia Fipps - Moorhead campus
counseling@msdelta.edu
662-219-3893 (text or call)
Katie Jones - Greenwood Center
kjones@msdelta.edu
662-271-5071 (text or call)
Pam Venton - Greenville Higher Education Center
pventon@msdelta.edu
802-387-0157 (text or call)
*Please note that Google voice/text numbers are not for phone/text counseling as state law prohibits this unless there is special training or certification in telemental health counseling. These numbers should be utilized for counselors to answer questions and direct/guide students to mental health assistance.*
---
For assistance regarding mental health services or crises, you can contact any of our counselors by email, voice, or text Monday-Thursday from 8am-5pm. After these days and hours, you can reach us by email, leaving your contact information and issue/concern, and we will get back with you as soon as possible. Please refer to your email or the Counseling section of the MDCC website for additional resources (shelters, food, etc.) and stay updated through MDCC social media pages. If there is an emergency, please dial 911 or contact your health care provider. You can also call Life Help Mental Health Center 24 hours a day at 662-453-6211-extension 0.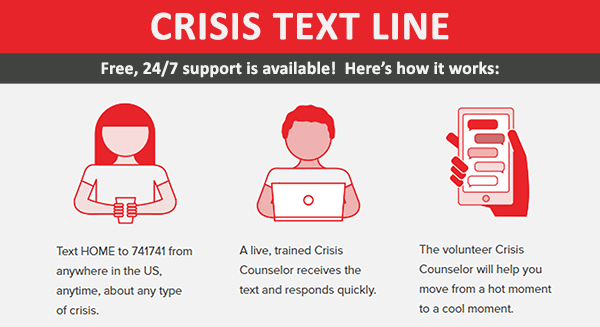 For more information, visit https://www.crisistextline.org.
Disaster Distress Helpline
Call 1-800-985-5990 or text TalkWithUs to 66746 to connect with a trained crisis counselor.
Pell Grant and Scholarships
If you need to know the status of your Financial Aid at MDCC:
Log in to MyDelta
Click MyBanner
Click Financial Aid tab
---
Refunds
When financial aid refunds are processed by MDCC, it will show on your student account in MyBanner.
Log in to MyDelta
Click MyBanner
Click Student tab
Click Student Account
Please note that once MDCC processes financial aid refunds, it could take up to 3 business days for BankMobile to process them.
---
For any additional financial aid questions or inquiries, email financialaid@msdelta.edu.
Former students that need access to unofficial transcripts, past grades, 1098T tax forms, etc. should follow these steps:
Visit the MDCC website at www.msdelta.edu.
Click MyDelta
At the MyDelta login screen, click the First Time Account Activation link.
Go thru the steps to activate your account.
When you get to the screen to set your password, note the portal username in red. This will be the username you must use to log in to MyDelta.
Your password must be at least 8 positions in length, must contain at least one upper case letter, at least one lower case letter and at least one number. It is recommended to also use a special character.
To the Graduates of the Class of 2020, we know that graduation is an exciting time for you. We share in your excitement and are so very proud of you! Our expectation is that you will complete the courses on time as scheduled to meet graduation requirements. However, the graduation ceremony will be postponed until a later date as MDCC seeks to protect you and your loved ones. More information will be forthcoming.
We understand that life goes on, and many of you will be spreading your wings and taking jobs elsewhere upon completing your degree. For this reason, MDCC will be mailing all diplomas to those meeting the requirements. If you signed up to walk in graduation and paid a $20 cap and gown fee and do NOT wish to participate in the future ceremony, please contact studentaccounts@msdelta.edu for a refund. It is our strong desire that everyone will walk in the graduation ceremony to have his/her degree properly conferred by the President.
MDCC Drive-up WiFi Service (Moorhead campus)
Students without internet access can drive to the Vandiver Student Union's north parking lot. It's located between the Union and the Library on the main campus in Moorhead.
To obtain the best signal strength, park as close to the Union building as possible. To access it, students should connect to the Wi-Fi network named "Guest." There is no password. This service is available every day between the hours of 8:00 a.m. – 5:00 p.m.
---
Public WiFi Access Points
The librarians of the Mississippi Library Association have created a map of public WiFi access points across the state. Click here to view this map.
---
The following resources are potential solutions for students needing internet access at home. MDCC does not endorse and cannot verify terms and pricing of third-party providers; however, the college is providing this information to assist students searching for possible solutions. Students unable to obtain internet access are encouraged to call the college's call center for additional assistance at (662) 246-6322.
Xfinity
Xfinity WiFi hotspots across the country will be available to anyone who needs them for free, including non-Xfinity Internet subscribers.
Charter/Spectrum
Starting on March 16, Charter began offering free Spectrum broadband and Wi-Fi access for 60 days to households with K-12 and/or college students who do not already have a Spectrum broadband subscription. Installation fees will also be waived. To enroll, call 1-844-488-8395. (Note: Spectrum is only available in specific Mississippi cities: Carriere, Holly Springs, Picayune, Poplarville, and Southaven.)
Comcast
Low-income families who are new customers and live in a Comcast service area may sign up for 60 days of complimentary Internet Essentials service, which is normally available to all qualified low-income households for $9.95/month.
AT&T
All AT&T consumer home internet wireline and fixed wireless internet customers can use unlimited data. AT&T also offers Internet service to qualifying low-income households for $10.00/month through Access from AT&T.
Unlimited Data Offers
Comcast and AT&T both announced they would waive data caps and keep public Wi-Fi hotspots open for all. To locate the nearest Xfinity Wi-Fi hotspots, enter an address on the Xfinity Wi-Fi hotspot map. For AT&T, use the AT&T Smart Wi-Fi app to find and save hotspots.
T-Mobile also stated it will upgrade all current customers to "unlimited smartphone data for the next 60 days (excluding roaming)." This applies to any T-Mobile plan or Metro by T-Mobile prepaid plan that has a monthly data cap. Additionally, T-Mobile said it is giving all customers "an additional 20 GB of mobile hotspot/tethering service for the next 60 days."
Sprint, which is being acquired by T-Mobile, is taking identical steps.
Logging In
Your USERNAME is everything before the @ symbol in your MDCC email address.
Your PASSWORD is whatever you've set it to.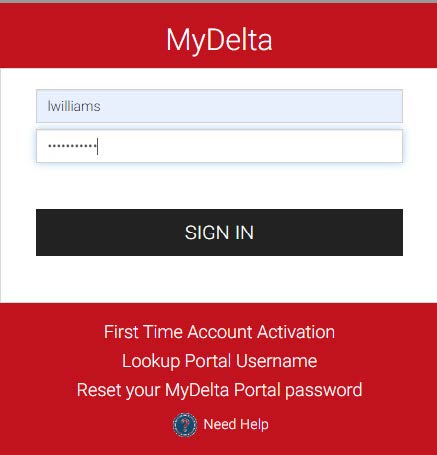 Please note the "Need Help" link at the bottom of the MyDelta login screen. This link will take you to the Information Technology website where you can find various instructions and help documents that should assist you in learning how to use the new MyDelta portal.
---
Troubleshooting MyDelta Login Errors
REMOTE PRIORITY REGISTRATION
Priority Registration is April 6-16, 2020. To those students who will be returning in the Summer or Fall of 2020, you will be contacted by your assigned advisor to begin the advising process culminating in the completion of a class schedule. If you have any advising concerns during this time, please email advising@msdelta.edu. We realize that this is not the ideal situation, but we are living in unsettling times and want you to be sure and get the schedule you want and deserve as a returning student.
MDCC GUIDANCE ON COVID-19 RELATED REFUNDS
Room and Board charges will be prorated and credited to students based on the following:

Students were residence hall students and had not moved out as of Monday, March 16, 2020
Students who voluntarily moved out prior to this date will not be eligible for a credit. These students will fall under the guidelines in the College Catalog on page 32, Policy for Reduction of Institutional Aid.

Room Application Fees are not refundable.
Any room and/or board fees that were paid with an institutional scholarship will not result in a refund to the student. The scholarship will be reduced by the credit.
Refunds will be less any outstanding balance owed to MDCC.
There will be no refund of tuition and other fees due to the continuation of classes via online.
The MDCC campus is currently closed due to Executive Order Number 1466 issued by Governor Reeves. If you did not move out during the dates given earlier to pick up your personal belongings, you will need to contact the housing department at housing@msdelta.edu after April 27th to schedule a date and time.